Italian restaurant in the old town of Valencia
Restaurant in Valencia with an exceptional location in Plaza de la Reina right next to the Miguelete Bell Tower, a stone's throw away from the Cathedral, Plaza de la Virgen and the spectacular old town, brimming with historic buildings, sightseeing opportunities and fantastic entertainment options.
The restaurant is located right on Plaza de la Reina (formerly known as Plaza Zaragoza) and which dates back to 1878, created on the occasion of the wedding of King Felipe XII and Maria de las Mercedes. It's a vibrant square with craft stalls, cafes, hotels and a whole host of services. The surrounding streets are full of tourists exploring the old town and visiting Valencia Cathedral and Plaza de la Virgen. At Restaurant Piazza La Reina you can have lunch or dinner while admiring views of the Cathedral and the Miguelete Bell Tower, an icon of Valencia and a must-visit landmark.
Plaza de la Reina is in the heart of the old town of Valencia and features Baroque, Gothic and Romanesque architectural styles. There are many services for visitors, and you can catch the tourist bus in the square itself or set off on a guided tour of the major landmarks of Valencia.
From our restaurant you can admire the architecture in the square, the Cathedral and the bell tower of the Church of Santa Catalina.
If you're looking for a place to eat in Valencia , make sure you choose the centrally-located Piazza la Reina, surrounded by historic buildings and traditional Valencian stores selling handmade crafts and delicious horchata (tiger nut drink).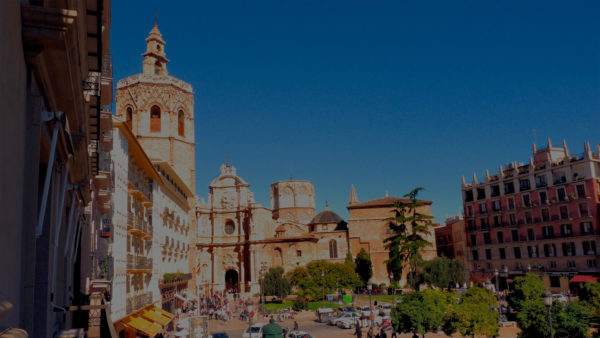 If you want to visit the Cathedral, just walk one hundred metres from the restaurant and you'll get to Plaza de la Virgen, the bustling heart of Valencia and site of the flower offering to the patron saint of Valencia during the world-famous Fallas festival. Plaza de la Virgen is a very lively square with craft stalls, shops and all kinds of restaurants. And not forgetting the spectacular Turia fountain, surrounded by statues.
The square and nearby streets are pedestrianised, making it perfect for a leisurely stroll without noise from traffic. It's a must for architecture lovers, as it's lined by an array of historic buildings. One of them is the Baroque-style Basilica of the Virgen de los Desamparados, famous its impressive blue-tiled dome. Next to the Basilica is the rear entrance to Valencia Cathedral.
On the opposite side of the square is the castle-like Palace of the Generalitat, which fuses Gothic, Renaissance and Mudejar styles.